FloatBrilliance, premiering this weekend at Links Hall, is the third installment of what Artistic Director Andrea Cerniglia calls the Imposter Series, a multi-year project consuming at least half of her company's history. In dropshift dance's six seasons, Cerniglia's aesthetic has gently, steadily pulled away from her roots in Zephyr Dance, but her commitment to multiple mediums with equal attention to the sonic, visual, and kinesthetic environments has never wavered.
Each of the works in the Imposter Series is a stand-alone entity, with little resemblance to the others. The common thread is all about the audience. When given free reign, what are the choices we make about interacting with performance? Are we willing to get close to it? Are we willing to let it happen around us and be observed by others with our bodies and behaviors becoming a part of work?
As with her other works, audience seating is unconventional, but FloatBrilliance imposes a few more guidelines. Guides will gently encourage audience members to sit very close to the performers at the start, though it feels less and less possible to remain close as the piece evolves. Compared to the others in the Imposter Series, FloatBrilliance is "softer and rounder," said Cerniglia, but it's also decidedly dancier with sweeping passes of physicality that will likely push audience members to the perimeters of the space.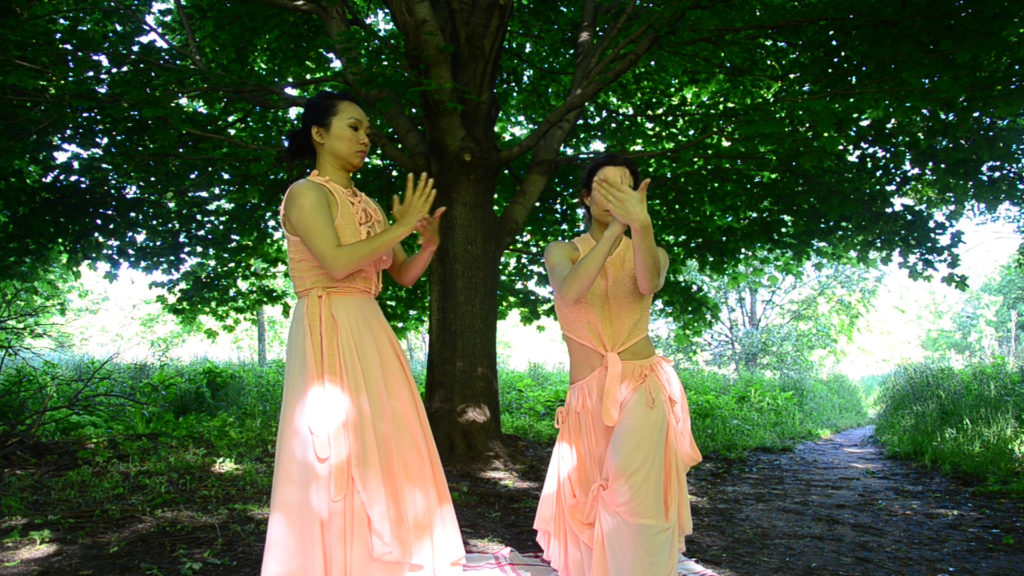 References to nature abound, in the mossy knoll on which the four women in the piece both perch at attention and lounge, and complementary projection designs by Rosa Gaia and Jeremiah Jones. But this and the other elements — Cerniglia's soft and round movement vocabulary, the underlying hum of composers Elliot Cless and Luke Gullickson's score layered with conventional instrumentation and subtle electronica, and Collin Bunting's flowing, blush colored costumes — allude more to the feminine mystique (or to Mother Nature herself?) than toward any sort of direct comment on trees and grass and butterflies. The eyes are often closed; when they open the women are coy, demure, at times skeptical. What arises from the dance is the sense that these four women (Cerniglia performs with Colleen Welch, Weichiung Chen-Martinez and Jill Moshman) support and console one another as sisters, but (like sisters) also question and challenge each other. Kind of like Cerniglia's audience experiments, with agency comes accountability.
Click Here to Visit Original Link
—
FloatBrilliance premieres June 17-19 at Links Hall, 3111 N. Western Ave. All performances are at 7:00 pm. Tickets are $20-25, available at the door or online. Audience format is fluid, however persons with disabilities or impaired mobility will be accommodated.